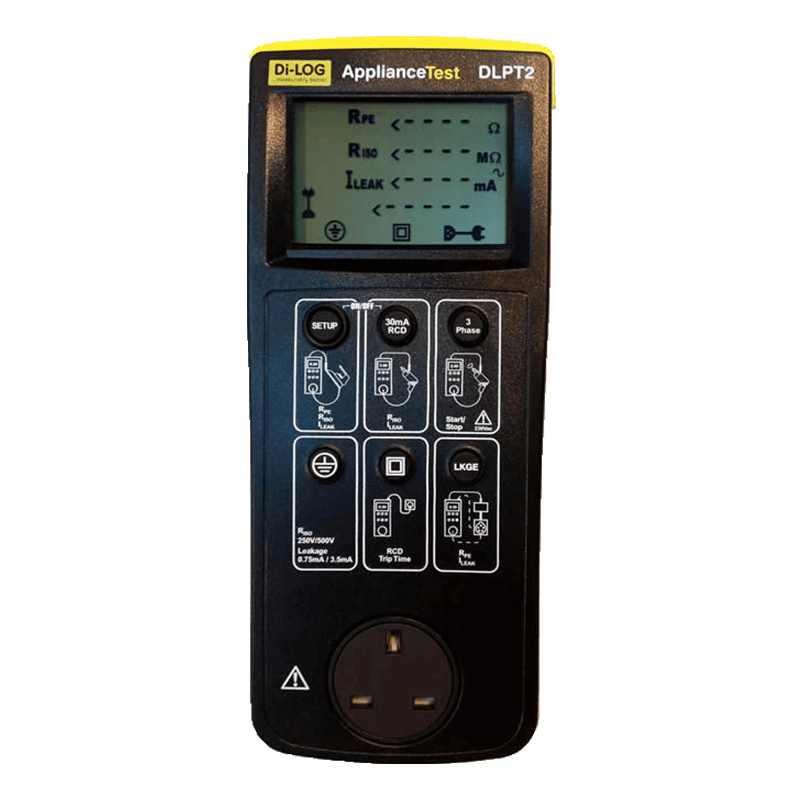 DLPT2
ApplianceTest PAT Testers
ApplianceTest DLPT2
Comprehensive handheld manual PAT tester
Di-Log's lightweight, portable ApplianceTest DLPT2PAT tester is unique in its range of safety tests. The ApplianceTest DLPT2 will perform all of the tests required by the IEE Code of Practice, including RCD trip, protective conductor current and touch current where required. The unit also includes a 250V DC insulation test suitable for testing sensitive electrical appliances and surge protected leads.
The ApplianceTest DLPT2 is ideal for ensuring that all workplace electrical equipment does not pose a danger to users -including three-phase machinery*. As a result, 3-phase industrial plant and equipment used in factories, workshops, schools and colleges can all be tested safely and effectively.
The unique range of tests incorporated in this lightweight and highly versatile instrument means that most workplace appliances can be tested using long life battery power. However, when protective conductor current or touch current measurements are required, simply connecting a mains supply will automatically select the correct test sequence.
The ApplianceTest DLPT2 is designed for ease of use and carries out all electrical safety tests against pre-set limits with measured test results and clear PASS/FAIL indication on a large display.
The ApplianceTest DLPT2 is an easy-to-use tester which is ideal for those who need to test a wide range of electrical equipment.
*For 3 phase and RCD testing, accessories are required.
*Currently, the mobile app feature is not available on the DLPT2
Features:
LCD display backlight
All portable appliance tests
Tests class I and II equipment including IT and business equipment
Extension and IEC lead tests
Socket polarity check
RCD tests on 10/30mA
3 Phase differential leakage current*
Voltage AC and DC
Special Offer
FREE DLPTKIT ApplianceTest Accessory Pack with every DLPK1 and DLPK2 PAT Tester ordererd.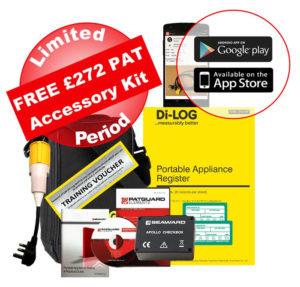 Specifications
Earth continuity
0.01 Ω - 19.99 Ω, 200mA minimum into 2Ω
Pass value
Pass value 0.2 Ω
Insulation resistance
0.01 MΩ - 19.99 MΩ, 250/500VDC @1mA nominal
Pass value
1 MΩ Class I, 2 MΩ Class II
Equivalent leakage
0.15mA to 9.99mA, 40V nominal AC
Pass value
0.75mA CL I / 0.25mA CL II
IEC lead test
5V DC nominal
IEC checks
Checks Live/Neutral for c/c, s/c, and crossed
Protective conductor
current (earth leakage)
0.15mA to 9.99mA, Supply voltage, max current 13A
Pass value
0.75 mA/3.50mA user selectable with 0.75mA as default
Touch current
0.10mA to 5.00mA, Supply voltage, max current 13A
Pass value
0.25mA
RCD trip time
30mA rms, 0ms to 500ms @ 0 & 180 Degrees auto switched
Pass value
200ms
3 phase differential leakage current

*Requires 3 phase adaptor accessory
0.10mA to 9.99mA, 3 phase supply voltage
Pass value
3.5mA
Power socket check
225 - 254V AC max current 13A
Line potential phase to earth
Line potential phase to neutral
Line potential neutral to earth
Power supply
6 x AA batteries / 225-245V AC for powered tests
Dimensions
260 x 100 x 55 mm
Weight
800 g