Primetest 100 PATBag (345A925)
The Complete Manual PAT Testing Kit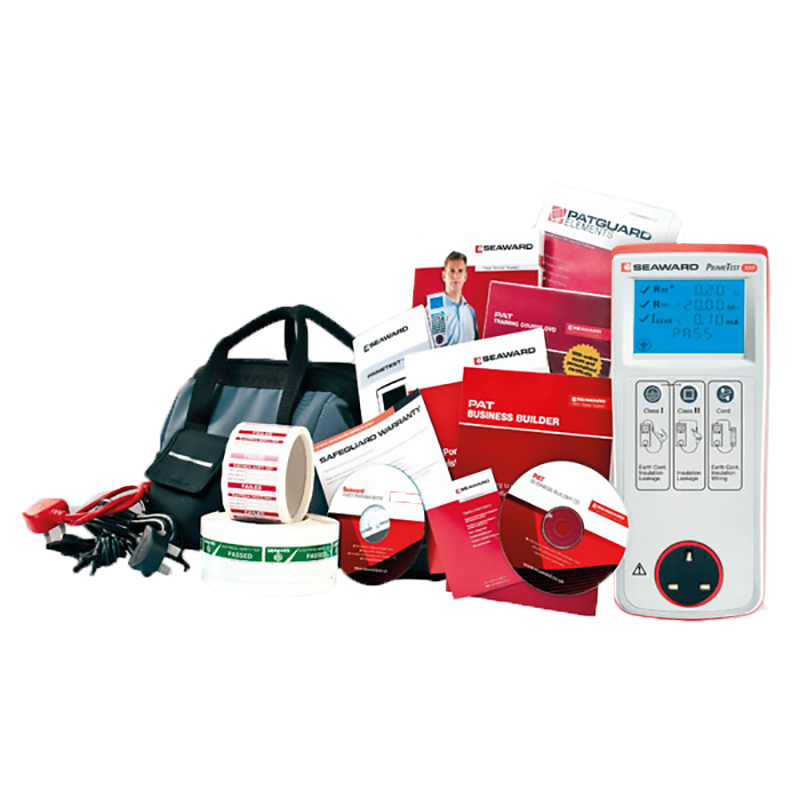 Primetest 100 PATBag (345A925)
The PrimeTest 100 PATBag offers an all-in-one solution to those with a manual PAT testing regime where measured test values are required.
Inside this rugged and lightweight carry bag you'll find everything you need for your PAT testing, from a handheld PrimeTest 100 tester to a PAT testing training DVD with online exam, pass and fail labels and a 110V adaptor.
Primetest100 a combination tester that gives you the functionality of a PAT tester, an IEC lead and extension lead tester and a power socket checker in one compact easy to use instrument.
Features;
An easy to use PrimeTest 100 PAT tester which gives measured test values
PATMobile Mobile App (Download from App Store or Google Play)
Rugged and lightweight purpose-made PATBag carry case with compartments for all of your PAT accessories and labels
A full length PAT Training online course with online exam and personalised certificate
A Seaward Guide to Portable Appliance Testing (Now downloadable)
A Seaward PAT Business Builder – A CD-rom and booklet resource pack forthose running or starting up a PAT service business
A handy PAT reference look-up card – with recommended test frequencies and limits
PAT register and test record for keeping a record of results
500 pass labels
500 fail labels
A Quick start video guide to your PrimeTest 100 PAT tester
110V adaptor
PAT Tester Part No: PT100 (Seaward PT100 Manual PAT Tester)  £277.00
PATBag Part No: 382A951 (Seaward PATBag Accessory Bundle) £85.00
Specifications
Earth continuity
0.00 Ω - 19.99 Ω (Pass value 0.2 Ω)
Insulation resistance
0.20 MΩ - 19.99 MΩ (Pass value 2 MΩ)
Equivalent
Leakage Class I
0.10 mA – 19.99 mA (Pass value 0.75 mA)
Equivalent
Leakage Class II
0.10 mA – 19.99 mA (Pass value 0.25 mA)
Power socket tests
230V +10% - 15% AC. L-PE, L-N, N-PE
IEC lead tests
Earth test, Insulation and Polarity
Power supply
6 x AA batteries
Dimensions
260 x 100 x 55 mm
Weight
800 g