Air Quality Data Logging CO2 Meter
Chauvin Arnoux CA1510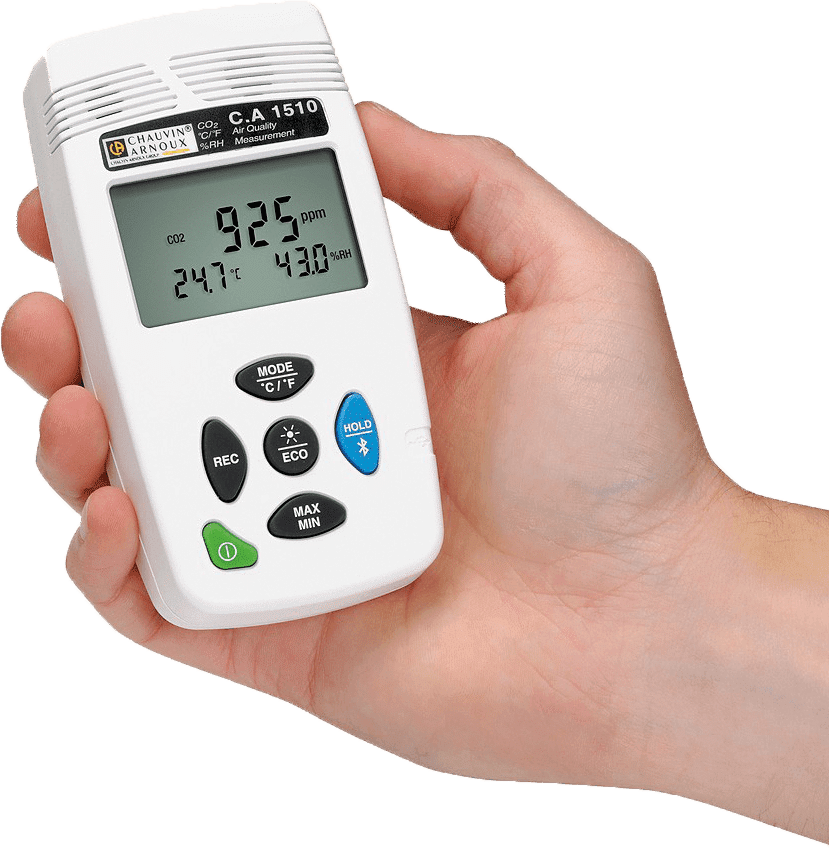 Air Quality Data Logging CO2 Meter
Quality of ambient air and risk of infection
Numerous scientific studies have proven thataerosols are a major route of transmission of viruses such as COVID-19 and SARS-CoV-2.  Active virus particles can float in the air longer and further than originally thought and pose a potential danger.
Problem definition:
Is compliance with the indoor distance rules suficient?
Which measures are recommended?
Which measuring devices are available to help identify and reduce the risk of infection?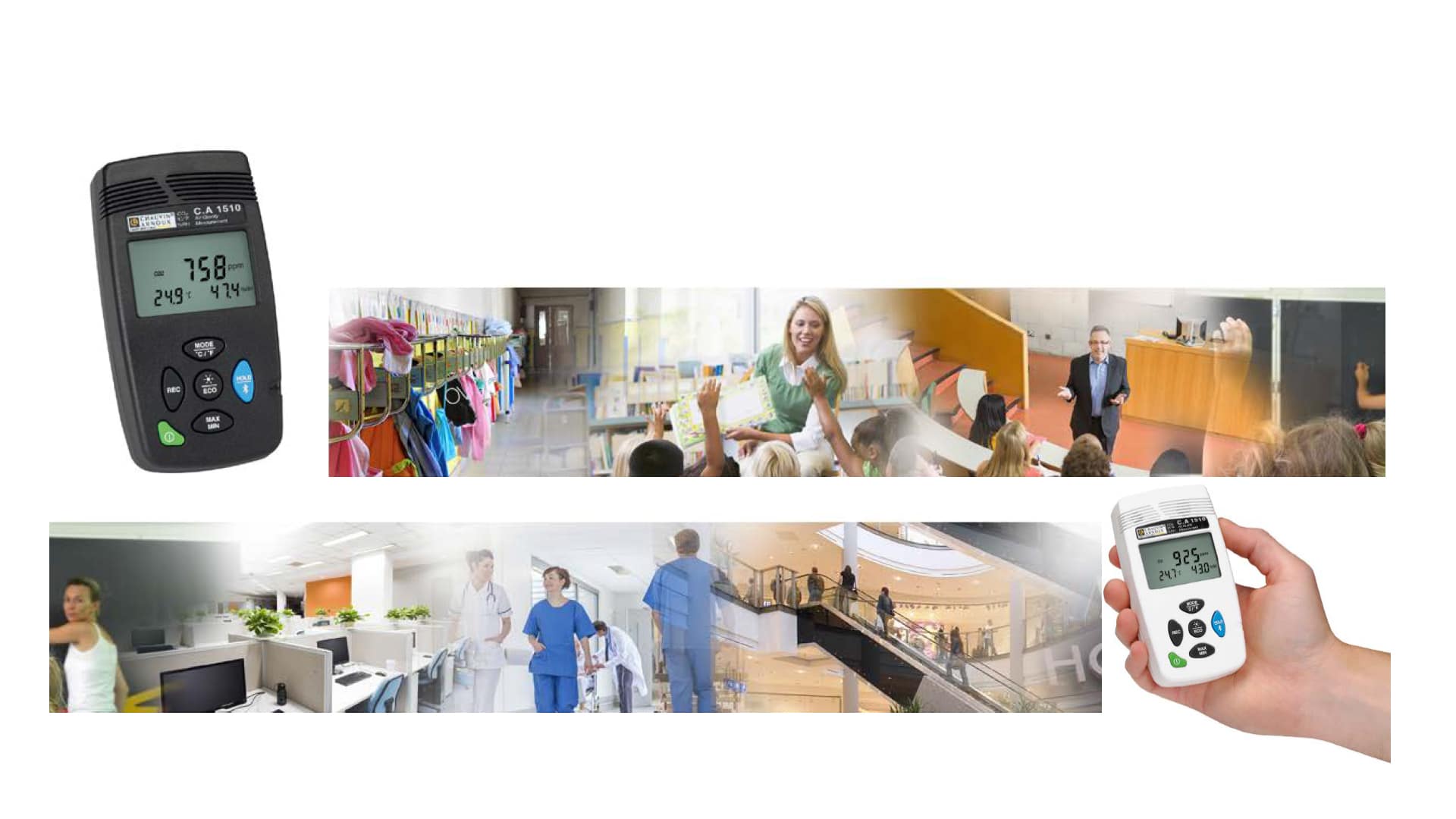 Are the distance rules sufficient?
In enclosed spaces, the risk of infection with the COVID-19 is generally much higher than outdoors, where SARS-CoV-2 particles are dispersed by the wind and can volatilize.  In publicly accessible premises such as schools, day care centres, ofices, seminar rooms, workshops, transport, hospitals, etc., the 2m distance control alone is not suficient, according to the study mentioned above.
Importance of airing
A possible risk of infection via aerosols therefore exists predominantly in rooms which are not
sufficiently ventilated or in which no air exchange is possible.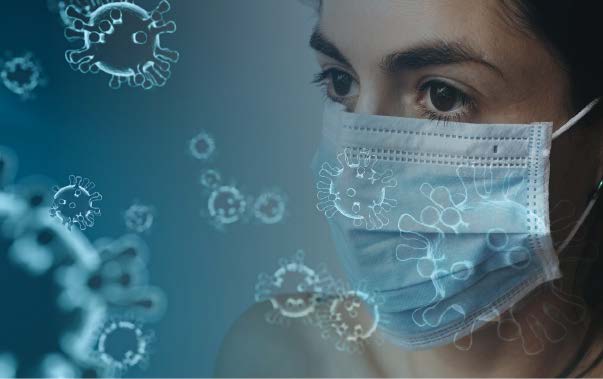 Coronavirus is airborne and transmitted through tiny droplets called aerosols that linger in the air much longer than the larger globs that come from coughing or sneezing especially in poorly ventilated indoor areas.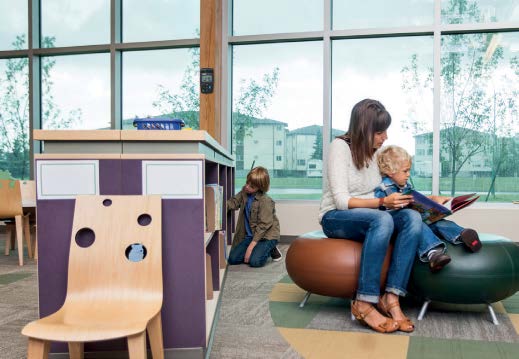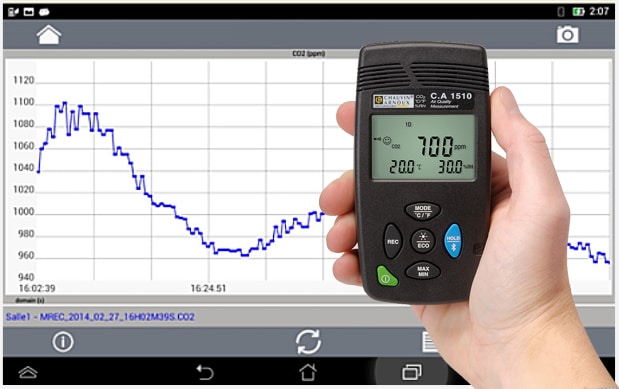 As already mentioned, an increased CO2 concentration in indoor spaces indicates a strong occupancy of the room and an insufficient supply of fresh air. For this reason, the CO2 concentration is an excellent indicator of air quality and a decisive indication of the need for air renewal.
The Model 1510 portable indoor air quality meter is easy and user-friendly to use and stores the measured parameters. It determines the air quality in rooms on the basis of the CO2 concentration alone or on the basis of the three measured physical quantities (CO2, relative humidity and temperature).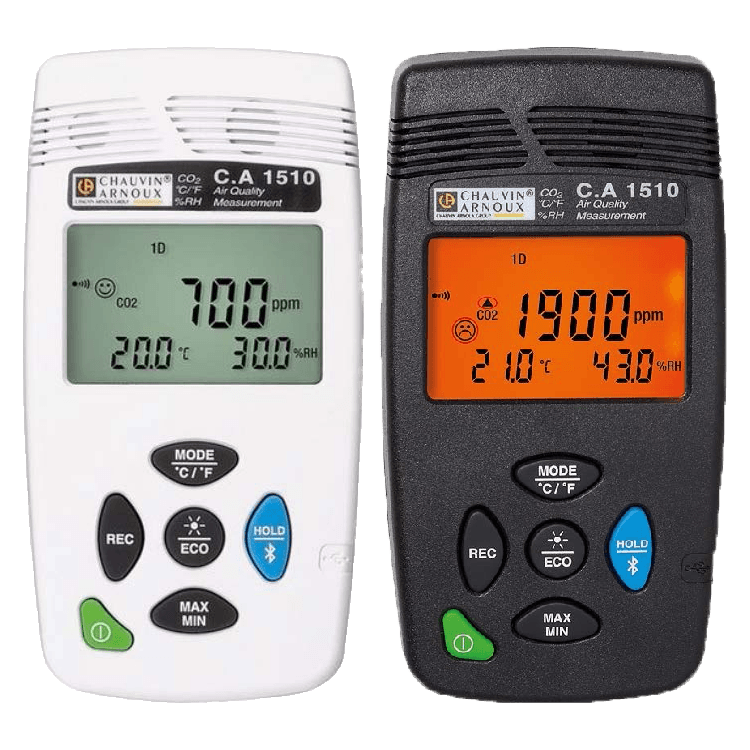 Available in either charcoal grey or white:
P01651010 – CA1510 Charcoal grey with carry case
P01651011 – CA1510 White with desktop stand
Features:
Audible and visual alert of high CO2 concentration
Simultaneous monitoring and recording of CO2, temperature and humidity values
Storage of up to 1 million readings
Compact and Autonomous – for stationary and mobile
measurements
USB power adapter for continuous measurements
Display of indoor air quality level based on CO2 content
and humidity / air temperature
On-Site Calibration Set
Correct Ventilation Ensured
The device has an optical display (two-color display backlighting)
and an audible warning when high concentrations of CO2 are
present.
Example in 1D mode:
from an average CO2 concentration of 1000 ppm, the indicator light flashes orange
from peak values of 1700 ppm the indicator light flashes red and an acoustic signal sounds