DL9110 MFT
18th Edition Multifunction Tester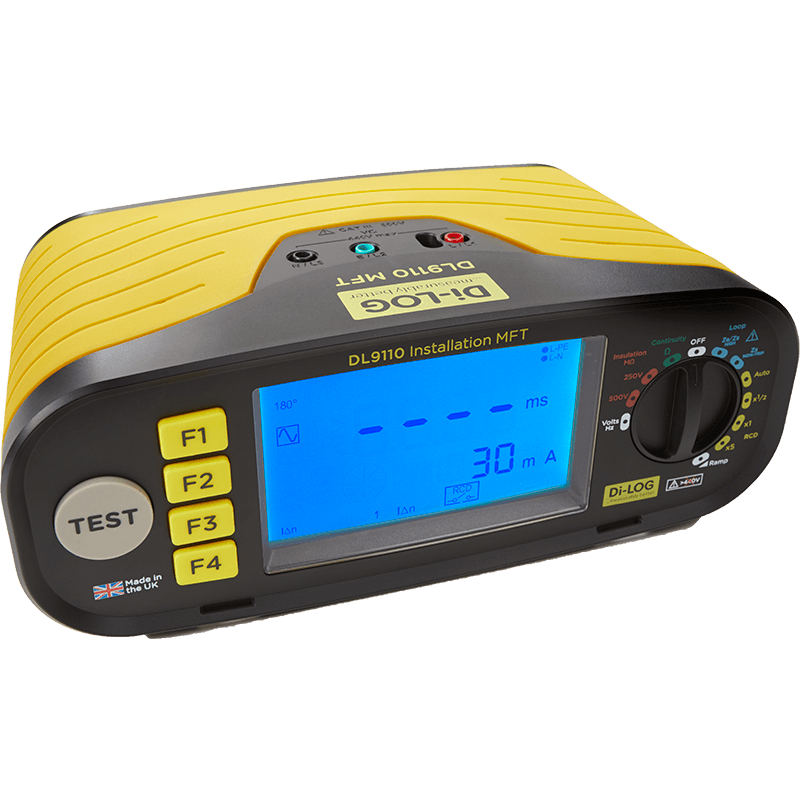 DL9110 MFT
18th Edition Multi Function Tester
The ALL NEW DL911x Series Multifunction Tester has been designed to fully comply with the testing requirements of the 18th Edition. It also incorporates many of the features that we have come to expect with modern MFTs. It is designed to be worn around the neck with a comfortable harness, for easy function selecting and testing.
The DL9110 is the entry level instrument in the series packed full of features, such as a Auto Start Loop & Continuity, the UK's largest colour changing RGB LCD display screen indicating error, Auto RCD test with Ramp feature and has Full Range Protection if tester is accidentally connected to voltage on a dead test.  The DL9110 also comes complete with a toolbox style carry case, full calibration certificate and an option to upgrade from the 2 year warranty to a 3 year warranty.  All in all, the DL9110 offers incredible value for a feature packed MFT meeting all the safety and performance requirements of BS EN 61557.
The All NEW RCD-LOC XLT 'patent pending' feature allows loop testing without tripping any type of RCD or RCBO with very high accuracy.
Key Features
RCD-LOC XLT
Auto Start Loop & Continuity tests
Auto RCD Test with Ramp Test
500V Insulation test
UK's largest colour LCD display
Optional Remote Probe (Item TLRP911x to be ordered separately)
Features
Loop Impedance – Unique auto start RCD-LOC XLT loop test principle will not trip any RCD
Prospective short circuit current – with auto start and direct readout of PSCC
High Current Loop Test – auto start loop test with high current Ze measurement
Continuity test – with auto start & null facility to zero out lead resistance
RCD testing – Trip time, trip current, auto test and ramp current
RCD auto test – test RCDs in auto mode and simply recall the test results once finished
Insulation measurement – with 250 & 500V test voltages
Integrated socket polarity test
Fully protected against damage when accidentally connected across phases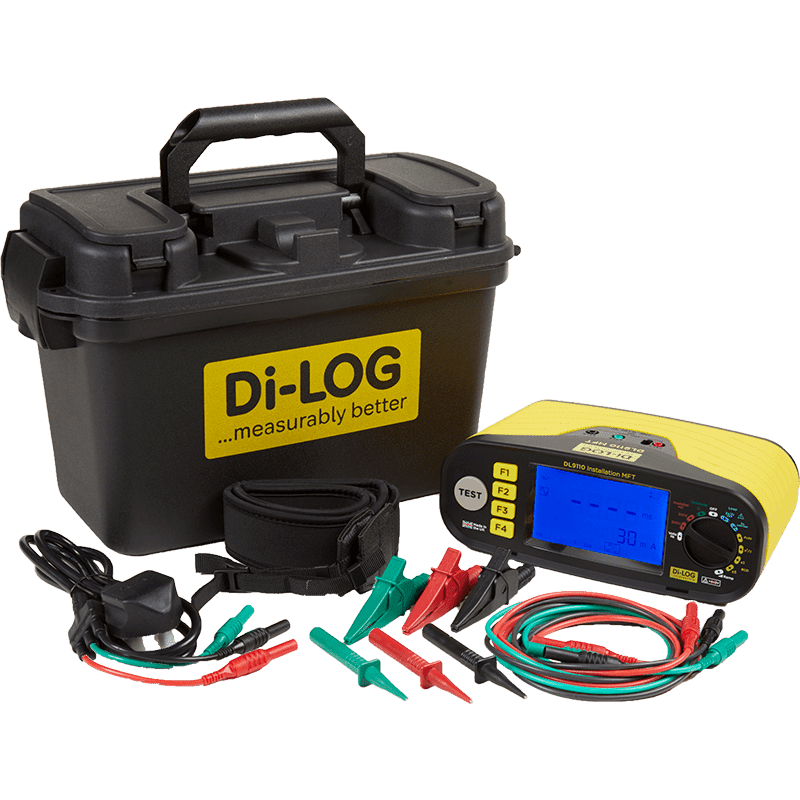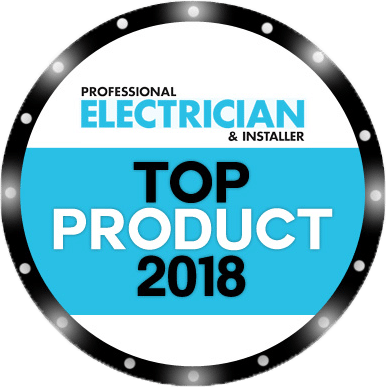 The DL9110 MFT from Di-LOG has been crowned a 'Top Product' winner in Professional Electrician & Installer Magazine's 2018 annual awards.
PE Editor, Richard Bowler said: "Our annual awards are a great way to reward those companies that have come up with excellent ideas to help electrical installers and businesses overcome common problems in their everyday work or open up new profit streams. The DL9110 18th Edition compliant MFT from Di-LOG is therefore a very worth winner of one of our 2018 Top Product awards."
Specifications
| | |
| --- | --- |
| Display | 3½ digit LCD 1999 digits |
| Insulation resistance | 0.05 – 2000 MΩ |
| Test voltage at 1mA | 250 & 500V |
| Continuity | 0.05 – 199 Ω |
| Loop Impedance | 0.01 – 2000 Ω |
| PSCC | 0 – 26 kA |
| RCD nominal test currents | 10, 30, 100, 300, 500 mA, ½ x 30 mA, 5 x 30 mA |
| Trip time | 0 – 500 ms |
| Tripping current with ramp test | ½ rated current to 1.1 rated current |
| Voltage | 0 – 440 V |
| Frequency | 45 – 65 Hz |
| Safety standards | EN61010, BS EN 61557 BS 7671 |
| Over voltage category | CAT III 440 V |
| Power supply | 6 x 1.5 V AA batteries |
| Dimensions | 260 x 105 x 55 mm |
| Weight | 836 g |