DL6403
1000 Amp AC True RMS Digital Clamp Meter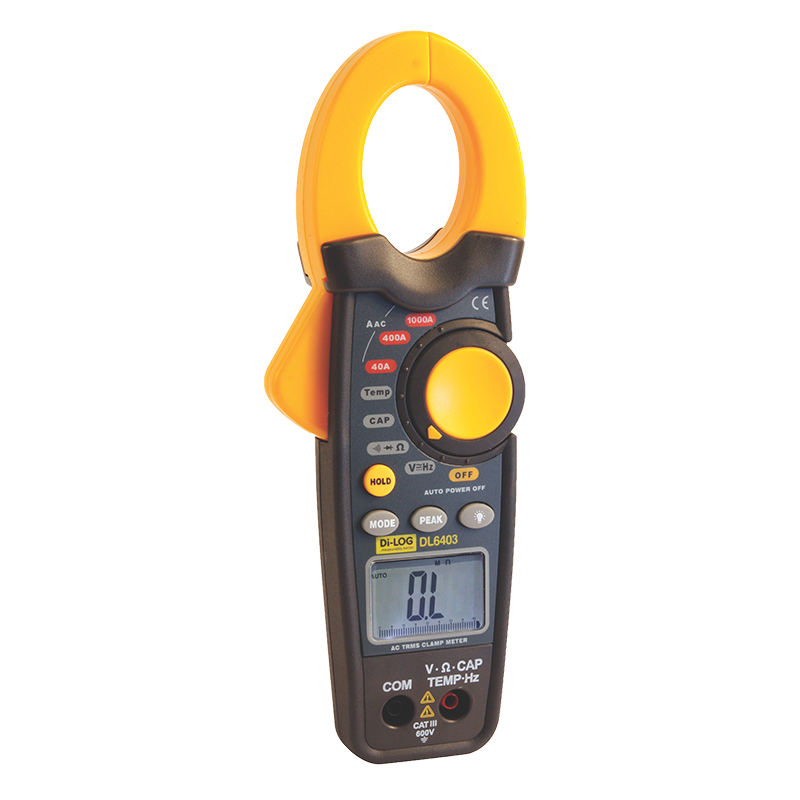 DL6403
True RMS
DL6403 1000 Amp AC True RMS Digital Clamp Meter
True RMS reading on AC current and AC voltages provide accurate measurement regardless of the wave form, which makes this the ideal instrument for commercial and industrial applications where no linear loads are present.
The 40 segment analogue bar graph in addition to the 4000 count LCD provides clear and precise indication of readings.
The slim design combined with the tear shaped jaw makes it an ideal unit for use in crowded panels and tight spaces.
Features:
True RMS Current and voltage readings
Audible Continuity
Resistance up to 40 MΩ
Temperature c/w probe supplied
Frequency up to 4 KHz
30 mm jaw opening
Electronic overload protection
Specifications
Measurement
Range
Basic Accuracy
AC Current true RMS
0.01A - 1000A
2.8% ± 8 dgts
AC Voltage True RMS
0.1mV - 600V
1.5% ± 8 dgts
DC Voltage
0.1mV - 600V
1.5% ± 3 dgts
Resistance
0.1Ω - 40MΩ
1.5% ± 2 dgts
Capacitance
4.000nF - 40mF
3% ± 5 dtgs
Frequency
4.000kHz
1.5% ± 2 dgts
Temperature
-20°C - 1000°C
-4°F - 1832°F
±3.0 % of rdg ± 5 dgts
±3.0 % of rdg ± 7 dgts
Diode Test
1.5V DC Typical
N/A
Power supply
1 x 9 V battery PP3
Dimensions
229 x 80 x 49 mm
Weight
303g