Seaward Apollo 400+ (380A930) PAT Tester
Dual Voltage Downloadable PAT Tester with memory for 2000 assets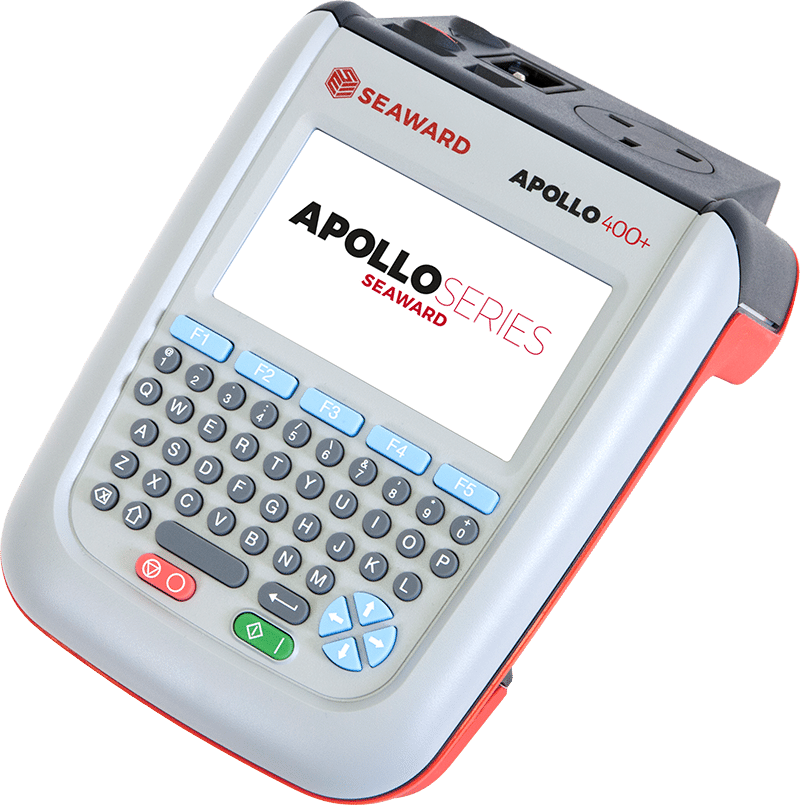 Seaward Apollo 400+ (380A930) PAT Tester
Seaward Apollo 400+ Bluetooth PAT Tester
Apollo 400+ Dual Voltage Downloadable PAT Tester with memory for 2000 assets
Apollo 400+ revolutionises safety management.
Apollo 400+ offers fast electrical safety testing with straightforward data entry using the intuitive QWERTY keypad.
A comprehensive range of electrical safety tests ensure compliance with the IET 4th Edition Code of Practice, whilst remote data transfer and USB download makes data management easy and efficient.
The Apollo 400+ is ideal for mid-volume PAT testing where speed is of the essence, and detailed records are required.
Streamline the PAT testing process further by using the Apollo 400+ with a compatible label printer, barcode scanner and PATGuard 3 software.
Key Features
High definition colour display
Store 2,000 appliance records
Bluetooth and USB connectivity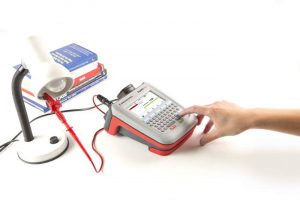 Electrical Test Functions
Low current earth continuity test guaranteeing accurate measurement
Insulation resistance
IEC lead test
Protective conductor current
Touch current
Load power/current
Alternative leakage current
Point to point testing for fixed appliances
RCD test
Power socket test
Apollo 500 Users
Professional PAT Testers
Electrical Contractors
Facilities Managers
Operations Managers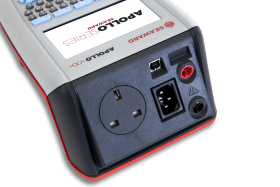 1. 
Straight Forward PAT Testing with simple data management
Apollo 400+ offers a comprehensive suite of fast and accurate electrical safety tests to enable any workplace appliance to be tested, including 3-phase equipment, fixed appliances and RCDs.
The QWERTY keypad enables asset information to be entered quickly and easily, while a large colour display with an intuitive menu sructure makes the Apollo 400+ simple to grasp. Lightweight and small in size, with battery or mains power modes, the Apollo 400+ is good to go in seconds; allowing more appliances to be tested without downtime for boot-up or a battery re-charge
2.

 
Superb software for total traceability
Apollo 400+ has an internal memory capable of storing up to 2000 electrical test records. Its compatibility with Seaward's PATGuard 3 software means that complete test records are easily managed on a PC.
Transfer data to the PC remotely using the Bluetooth function and a smartphone, or download the results via a USB cable directly to a PC. Once downloaded to PATGuard 3, it is easy to keep track of the history of test and inspections as well as produce reports, certificates and invoices – offering total peace of mind and quicker, easier management of scheduling inspections and tests.
3. 
Greater efficiency through useful accessories
As with many Seaward PAT testers, the Apollo 400 is compatible with a range of printers and barcode scanners, further speeding up the process of asset recognition, testing and labelling.
4.

 
Accessory Bundles
The Apollo 400+ is available to buy with a selection of optional accessory bundles to help you get the most out of your tester.
Specifications
Earth Continuity
Test Current
± 200mA
Display Range
0.01 Ω – 19.99Ω
Pass Value
User Defined
Insulation Resistance
Test Voltage
500V / 250V DC @ 1mA nominal
Display Range
0.01MΩ - 19.99MΩ
Pass Value
User Defined
IEC Lead Test
Tests Performed
Earth, Insulation Resistance, Live & Neutral Continuity
Protective Conductor Current/Load
Test Voltage
Supply voltage, maximum load current 16A
Display Ranges
0.01mA – 19.99mA
Pass Value
User Defined
Touch Current
Test Voltage
Supply voltage, maximum load current 16A
Display Ranges
0.00mA – 3.5mA
0.00kVA – 4.00kVA
0.00A – 16.00A
Pass Value
User Defined
Load Power/Current
Test Voltage
230V +10%, -15%, maximum load current 16A
Test Duration
Programmable up to a maximum of 255s depending on load, i.e max duration is reduced for higher loads.
Display Range
0.00kVA – 4.00kVA
0.00A – 16.00A
Alternative Leakage Current
Test Voltage
>25Vac <50Vac
Display Range
0.00mA - 19.99mA
Pass Value
User Defined
RCD Trip Time
Test Voltage
230V +10%, -15%
Test Current
15mA/ 30mA rms,sinusoidal
Display Range
0ms - 2000ms
Test Method
Internal isolation to avoid tripping distribution board RCD
Power Socket Test
Voltage Range
207V – 253Vac
Voltage Indicators
Line potential phase to earth
Line potential phase to neutral
Line potential neutral
General
Memory size
2,000 records
Weight
1.5kg
Dimensions
230mm x 150mm x 100mm
Power Source
Mains or rechargable battery pack
Warraney
2 years (Subject to registration)